Healthcare marketing is a downright necessity in the ever-evolving health industry. It is an effective tool for health providers to promote their services before the desired audience – and on the market.

The thing that distinguishes the health businesses from others alike boils down to patient privacy in healthcare marketing. After all, marketing or not, patients' health records are confidential and cannot be used for targeted campaigns.
Healthcare marketers are facing several challenges when dealing with patient privacy – from legality, data exposure, and confidentiality to social stigma and embarrassment.
So, ensuring a strong privacy mechanism promotes confidence and trust between a patient and the healthcare provider.
Potential privacy threats – network breaches, malware attacks, etc – are a major concern due to the rise of technology and its accessibility. To protect patients' privacy, health providers ought to be investing in secure systems that eliminate any and all data privacy concerns.
Below, read how patient privacy in healthcare marketing works, why it matters – and how to stay on the safe side when managing both aspects.
The Ethics behind Patient Privacy and Healthcare Marketing
The Health Insurance Portability and Accountability Act (HIPAA) was enacted in 1996 to protect the disclosure of patient information. According to federal law, healthcare professionals are prohibited from disclosing health-related information to anyone but the patient or the patient's authorized representative.
The law however doesn't limit the patient to voluntarily disclose health-related data. The patient can give authorization for the release of their electronic health records to be used for various purposes, whether in trial studies or marketing strategies.
A patient's electronic health records contain the most personal information of an individual. This information includes name and contact information, medical history, test results, insurance information, and others.
Ethics is one of the major issues that always arise when talking about personalized healthcare. Let's take, for example, insurance companies. They ask for access to medical records before issuing insurance to confirm the person is healthy. In patients with genetic predispositions, insurance companies will not offer certain policies.

Naturally, this puts patients in a very discriminating position.
Because of such cases, patients tend to get suspicious regarding the privacy of their medical records. And so, to avoid the exposure of their most sensitive data, they often provide false or minimal information.
Doctor-patient confidentiality is and should be highly valued. And so, healthcare professionals should be highly alert to patient privacy in managing their healthcare marketing strategies.
On the positive side, there are also advantages to this approach. Personalized healthcare is designing a person's unique genetic picture and providing the best care based on the information received. After all, the aim of the personalized healthcare system is a healthy, satisfied, and protected patient – something every healthcare provider needs to enable.
Potential Privacy Threats during Personalization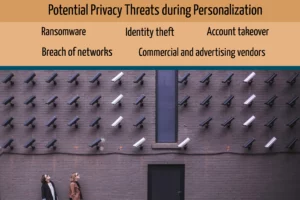 The protection of patients' health records has been widely discussed. Some of the major perils that may arise privacy-wise include general data safety, access, and proneness to hacking.
With developing technology, we see potential threats of cyber-attacks emerging faster, and among all aspects – vendors, applications, electronic devices, you name it.
Some of the biggest healthcare security breaches for healthcare marketing are:
Ransomware

– considered the biggest healthcare security threat so far. It's malware that threatens to reveal personal information or even block access to data until a ransom is paid. With the proper setting of the system, it is a manageable problem.

Identity theft

– accessing one's electronic health record may lead to stealing their identity. Dealing with this issue, however, needs careful planning in accessing the data at hand. 

Account takeover

– It may sound unbelievable, but account takeover ranks high on the list of potential privacy threats. Users make it easy for hackers to access their records, often by reusing old passwords.

Breach of networks

– entering email accounts is the easiest way to gain access to one's information. Hacking mailboxes may be used to gain access to employee information, contacts, email content. 

Commercial and advertising vendors

– these make the greatest privacy threat in preserving patients' health care records. Commercial and advertising vendors access information without needing physical proximity to patients. What's more, they can even collect information on family members – and maintain lasting patient health dossiers. 
Benefits of Personalizing Health Care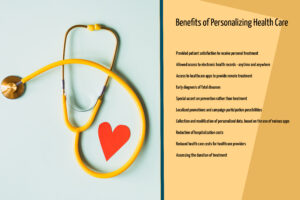 When talking about personalized healthcare marketing, the patient takes the spotlight. It's a process of carefully observing the patient's medical history uniqueness, and providing them with the utmost personalized care. 
What makes personalized care possible is understanding the patient and their medical history. Just think about all possibilities that may come from personalization. 
By creating a unique genetic file for each patient, doctors can predict susceptibility to a certain disease. Early detection and specifically tailored treatment can save a patient's life. Ergo, the benefits of introducing personalized health care for both patients and businesses are:
Provided patient satisfaction to receive personal treatment

Allowed access to electronic health records – anytime and anywhere

Access to healthcare apps to provide remote treatment

Early diagnosis of fatal diseases 

Special accent on prevention rather than treatment

Localized promotions and campaign participation possibilities

Collection and modification of personalized data, based on the use of various apps

Reduction of hospitalization costs

Reduced health care costs for healthcare providers

Assessing the duration of treatment
Mapping a patient's experience offers healthcare providers the opportunity to tailor the patient's treatment. All patients with the same disease don't have to use the same treatment. Personalization of the patient's treatment may provide answers during clinical trials and other studies.
Therefore, healthcare marketers may use these experiences to promote the provider's unique approach to patient treatments.
How to Safely Personalize Your Healthcare Business

Mapping patients' experiences and providing the best personalized solutions are the first steps in creating a rock-solid healthcare marketing strategy.

Armed with the aptest personalization marketing tools, you will easily create and strengthen your long-term relationship with all patients. Plus, personalization lets your patients feel unique and appreciated by their healthcare provider – become it.  
There are several approaches to personalizing your healthcare business.

Building a unique patient profile to deliver to their needs and expectations, for one. Then, there is data safety as part of the personalization process. And, there is also the use of this data in clinical trials and testings to achieve the best results.
Tips for Personalized Patient Experience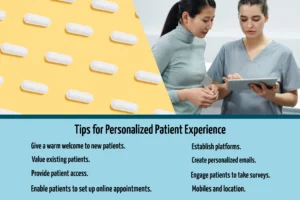 First and foremost, there's mutual trust, as it takes a lot of work to build a relationship based on trust between patients and healthcare providers.
Below are some tips to building a strong and trustworthy relationship with patients:
Give a

warm welcome to new patients.

After all, it is first impressions that initially attract newcomers. 

Value existing patients

– and their feedback. Retain existing customers by making them part of your story, shielding their privacy, and offering them various promotions. 

Provide patient access

to their electronic health records – anytime and anywhere. Allow them access to their entire files, let them check for prescriptions and testing results, and ensure maximum transparency for your audience. 

Enable patients to set up online appointments

with their respective physicians. Patients like the freedom to do things their way – so, accommodate them. 

Establish platforms

where you can learn more about the content your patients want to read. This will help you better attend to their needs and concerns. 

Create personalized emails,

targeting the patients' needs and concerns. Use discussion platforms to easily extract all relevant information and create targeted mail based on the data provided. 

Engage patients to take surveys

or have them join promotional campaigns. Social activity is super-important when trying to collect data. 

Mobiles and location

are powerful tools to use in healthcare marketing – they help you deliver localized information and promotions.

It's difficult to keep up with constant changes concerning healthcare marketing strategies.
Here are the key safety tips for healthcare marketing :
Make patients feel unique and recognized

. Always provide them with personalized and relevant recommendations.

Gain the patients' trust and learn to maintain it

. If patients lack trust in terms of protecting their data, they will never agree to disclose any sort of personal or health information. 

Healthcare is expensive, so healthcare marketers can make the most of attracting patients by providing

reliable, affordable, and trustworthy services

.

Use solutions like

network access control

(NAC) to scan and identify potential threats and keep health equipment safe.

Strengthen endpoint platforms

to detect potential threats and react swiftly.

Limit data access

to information needed for everyday operation only.




A dentist doesn't need access to patients' oncology or gynecology data.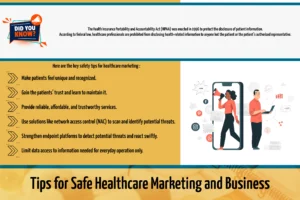 Existing research indicates an increase in the business personalization sector over the past three years. Namely, around 46% of all businesses are using the personalized approach in 2020.
Here are the main tips on patient privacy in healthcare marketing: 
HIPAA-compliant Healthcare Marketing Services
All tools used for healthcare marketing services have to be HIPAA-compliant. It enforces privacy protection of patients' health records. Privacy protection protocols should be followed by encryption of emails and servers where data is stored. 
To make sure staff members fully understand the HIPAA policy, organize training sessions on this topic. The aim is to send the message of how essential these confidentiality requirements are.
Confidentiality of Patient's Personal Health Information
Patients' health information, even their name and birthday, is confidential and protected. To avoid any violations, steer clear of using personal information in emails and related campaigns. 
Draw up confidentiality agreements and policies that every staff member needs to read, sign and abide by. 
You may also share all enforced confidentiality procedures with patients – such a move will portray you as a provider that is serious and strict about protecting their privacy. 
Written Patient Authorization for Information Use
Written authorization on using patient information is a must in the healthcare marketing sector – be it their email, name, birthdate, or else.  
Make it a practice to inform patients regarding these technicalities during your first meeting. Describe the reasons behind these permissions and authorization, and address the ways in which you as a provider will shield this information down the line. 
If you think this old-fashioned way takes up too much time – and it might – you can proceed to do the same using online software. 
 Storage and Accessibility of Information on Secure Systems
The challenges of data storage increase as the patient database increases. So, it's easy to make a simple mistake when there are huge data quantities that need to be managed – and kept private.
Therefore, healthcare providers should always focus on properly storing and accessing patient data, alongside keeping these safe and secure. For this, using secure cloud storage is a superb option, even if for backup purposes alone. 
To further filter who manages sensitive patient data, limit access to information only to selected staff members. Not everyone needs to have access to every piece of patient information. Try using different password protection levels to prevent uncalled-for data access. 
Authorization for Sharing Testimonials
Testimonials enable your success-story patients to help you attract new clients. Sharing testimonials and personal experiences from patients is a supreme way to advertise your healthcare brand – but a delicate one at that. 
Actually, you can pull this off without using any patient information – just put the accent on what makes your practice great in their field. However, to truly establish reputability, reliability, and quality among your audience, testimonials are a must. Now, to make it all personal enough through testimonials – you need the patients' permission to publish them.
Before sharing any kind of testimonial, whether in email correspondence or on social media, get the patient's permission and authorization. 
Being Social is the Key
It's good to engage current patients with fresh and interesting content – but you can always expand. The best way to do this is to use social media platforms as a personalization tool to attract a greater audience. 
Namely. use surveys and quizzes to build your database – and increase traffic. Advertising campaigns should also come packed with fresh and relevant content, the kind your patients crave to see and be informed on. 
Patient Privacy and Healthcare Marketing: A Final Say

Patient privacy and healthcare marketing can go hand in hand – with the right safety tools at hand. The truth is, with enough mastery and knowledge on managing both, you won't have to sacrifice your marketing strategies in the name of patient privacy, or vice versa. 
However, given that 46% of patients have formerly complained of third-party healthcare data breaches – intentional and not – the importance of marketing without privacy perils at hand becomes more paramount in building a safe and sane brand – and retaining your clientele as intended!