In a competitive industry like home care, any minor home care agency SEO mistakes could cost your business significant losses. With the ever-evolving nature of SEO, it's not surprising for some mishaps to happen here and there, especially when you're new to home care digital marketing.
Are your SEO efforts on the right track? In this article, we discuss what mistakes to avoid when developing an SEO strategy for your home care agency and how to correct these for better results.
6 Mistakes to Avoid on Your Home Care SEO Strategy
1. Expecting Instant Results
If you've just started your SEO efforts or implemented a new strategy, it will take a few weeks to see changes. Some may see the lack of immediate progress as a sign that they failed and change up their strategy right away. However, SEO results do not show until after 6 months, with some even taking up to a year.
Changing up your SEO strategies too early would not give your website time to rank. Plus, you lose the opportunity to accurately assess the effectiveness of your strategies.
What to do instead:
Apart from letting your SEO strategies run for 6 to 12 months, you must also keep track of data, such as your website rank and organic keyword traffic, vis-à-vis your goals. Tracking and analyzing data will give you direction on what works and what doesn't work for your website.
Expecting instant results is an SEO mistake your home health care agency needs to avoid because it could lead to higher costs with little to no returns on investment. But if you wait and observe, you'll be headed in the right direction when you do change your SEO strategy instead of grappling in the dark.
2. Not Optimizing Website Design
In SEO marketing, user experience is just as important as content. User experience is all about making it easy for users to navigate your website and absorb your content. This means optimizing your content so that it loads fast and is comfortable and easy to use.
If you don't optimize your website, users will likely leave your site before they engage with it. According to a survey by Digital.com, half of the customers abandon their carts if the page doesn't load within 3 seconds.
People are not very patient. So, you need to optimize website design to avoid losing potential clients as well as ranking.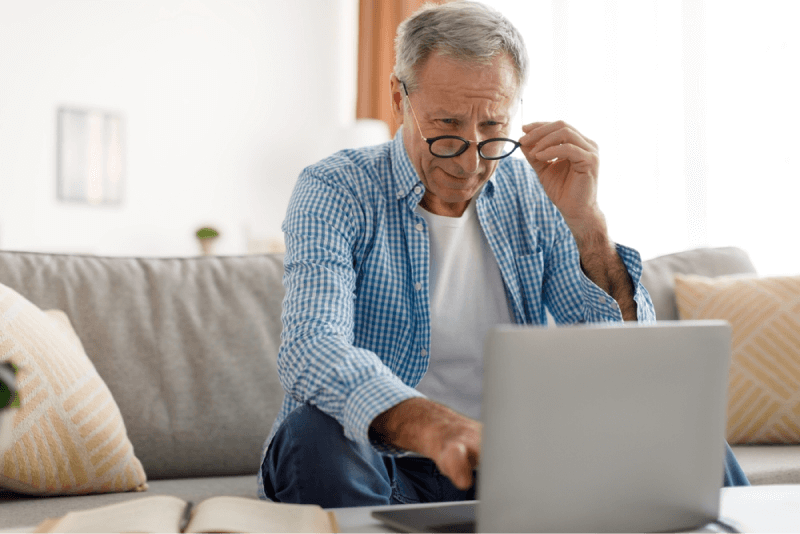 What to do instead:
Failing to invest in optimizing website design is one of the most crucial mistakes to avoid on your home health care agency's SEO strategy.
As you develop an SEO strategy for your home care agency, take the time to consider your website's design. See if it's optimized for mobile and desktop, if images load properly and quickly, if the site is easy to navigate, as well as if it is easy to read.
What should you consider when optimizing your website's design?
Site speed, which could be affected by large image and video files
Optimization for mobile devices
Too small or too large font sizes
Unpleasant color schemes
Long blocks of text
Outdated website design
Another thing to consider is accessibility or making your website convenient to people with visual or hearing impairments, or any other disability. To start with, include alternative texts on images, captions on videos, employ appropriate color contrast between text and background, and so on. You can check out the ADA's guide on website accessibility for more ways to make your website more accessible.
3. Overreliance on Jargon
Jargons make communication efficient for professionals or experts in a field. In SEO, they are a good way to establish your competency in the industry.
But your clients may not like it if you use them too much. If they can't easily understand your content, users will most likely leave. This is bad news for your ranking because time spent on a site is one of Google's metrics for the helpful content update.
If users leave your site quickly without engaging with your content, Google will see it as a sign that your content is not as helpful. Of course, the best way to create helpful content is to write in ways that users will easily understand and enjoy.
What to do instead:
Keep your content user-friendly and understandable to your clients by minimizing jargon use. Remember who you're writing for — use language that your clientele will understand. Whenever possible, use the language or vocabulary that your clients actually use.
4. Neglecting Google Algorithm Updates
Many common SEO mistakes your home care agency should avoid stem from failing to align with the variety of Google's algorithm updates. As you may already know, Google regularly updates its algorithm to better serve its users.
Google typically rolls out a few updates every year, with some being more significant than others. Still, each update could have an impact on your ranking, and so should be considered in your SEO strategy.
What to do instead:
It's best to always stay updated on Google Algorithm updates. More importantly, take the time to analyze how they can affect your website. Consider these updates when developing your home care search engine optimization strategies.
5. Not Updating Your Old Content
SEO tips for your home health care agency that advise you to continuously produce new content are correct, but you shouldn't skip out on updating old content. Doing so can help you rank better because it will get your site indexed more frequently, increasing your chances of ranking better.
Remember: Google loves fresh, relevant content.
Overall, updating your old content is an opportunity to improve all elements of your content, which, when done right, is sure to boost your ranking.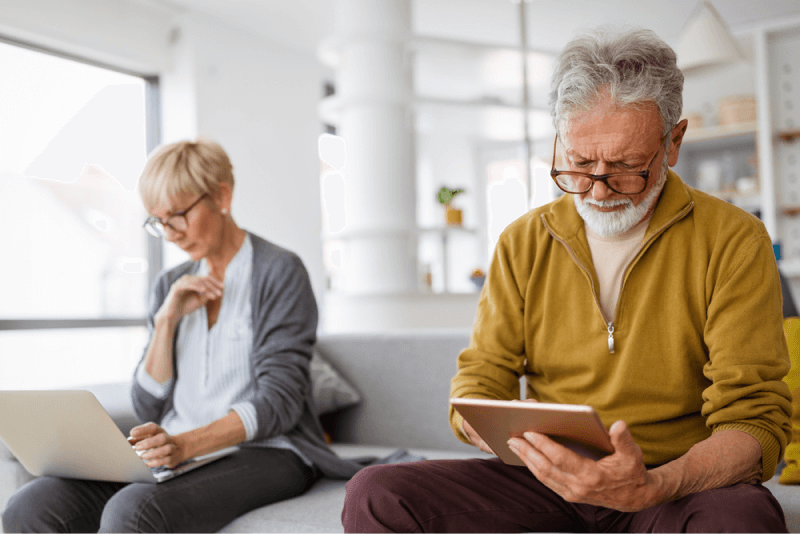 What to do instead:
You don't need to update all old content. But do look into pages that aren't doing well and see how you can improve them.
You can update your content to improve mistakes you may have committed in the past:
Thin or poor-quality content
Poor research or lack of supporting data
Duplicate content
Keyword-stuffing
Poorly utilized metadata
Poor internal linking
Missing or underutilized multimedia (e.g., images, audio, or video)
6. Failing to Support Your SEO Strategy with A Multimedia Strategy
With the adage "content is king" many people came to believe that all they need to rank is written content. While written content is, indeed, a major factor, the role of multimedia in improving user experience and keyword optimization can't be ignored.
Not having a multimedia strategy is one of the most common SEO mistakes to avoid in your home health care agency's strategy. Why? Because multimedia content enriches your content and improve rankings.
Multimedia content is attractive to users since they tend to be easier to digest. They work well at breaking up large blocks of text while adding value to content.
With multimedia content, people are more likely to spend more time on your site and even share your posts.
What to do instead:
With these benefits in mind, start developing a multimedia strategy along with your SEO strategy. Make sure that written content is accompanied by multimedia content.
Explore multimedia formats like videos and podcasts, as well as other platforms to share them in. This way, you'll be able to reach a wider audience and get quality engagement.
Don't Make These SEO Mistakes
In the home care industry, it's all about trust. You can invest significant resources to improve the services you offer to your clients, but you can't maximize your potential if people don't know or trust you.
Reach and convert your target users with the right home care marketing strategy. Remember these 7 SEO mistakes to avoid when developing a strategy for your home care agency so that your SEO efforts don't go to waste.
Contact us today and discover how we can help.