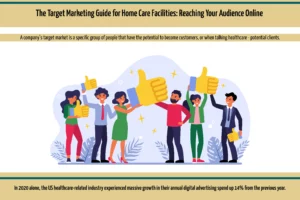 In 2020 alone, the US healthcare-related industry experienced massive growth in their annual digital advertising spend up 14% from the previous year. This, frankly unexpected increase, made it one of the fastest-growing industries in the online market.
Although healthcare is still a small percentage of all US online advertising compared to other sectors, medical industries are steadily allocating their marketing budget towards digital platforms.
Online healthcare marketing tools are becoming ever more pivotal to any home care facility looking to attract new patients. Luckily, digital marketing opens up new opportunities for healthcare providers to reach clients.
One such opportunity is targeted marketing. Advertising is no longer broad, large-scope TV commercials, but personalized messages are meant to attract healthcare audience online.
Let's have a look at what target marketing is, how, and why – and how – healthcare facilities are integrating it into their digital marketing strategies.
Target Marketing Basics 

A company's target market is a specific group of people that have the potential to become customers, or when talking healthcare – potential clients.
Target marketing works by breaking the entire market pool into smaller segments and focusing all advertising efforts on a particular group – your potential client base. Segmentation can be done based on various shared characteristics the desired audience has.
Usually, medical services have a very well-defined client. For example, retirement homes want to attract and take in senior citizens.
Digital and target marketing are a match made in heaven. The internet allows for deep individualization and personalization, which is a major part of reaching a target audience. 
It just makes sense to put these two together – so much sense, in fact, that today it's hard to have a successful marketing strategy without both.
Find Your Healthcare Target Audience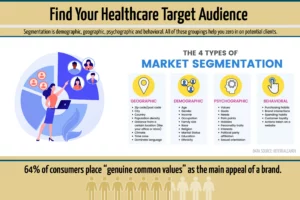 Targeted healthcare marketing involves segmentation, selecting a group, and promoting engagement. Marketers need loads of information to do all this, and the online world makes this easier than ever to get that information.
Usually, segmentation is demographic, geographic, or psychographic. All of these groupings help you zero in on potential clients. But, target audiences for your advertisements aren't always your potential clients.
Home care facilities are a particular case. Your potential patient is usually not the one in charge of the decision-making process, so targeting them is not always ideal.
Sometimes the primary physician may decide what service will be provided, and where. Other times, family members make the call. It may even be a health plan representative.
Understanding your audience and speaking their language is key! Harvard Business Review found that 64% of consumers place "genuine common values" as the main appeal of a brand.
Use all available data to sculpt a well-defined target market, then address them exclusively, and in an appealing manner. If you are targeting multiple groups, prioritize first, and place the most attractive one on top. Then, distribute your marketing funds accordingly.
Navigating the Digital Landscape 

The internet is still fairly new for some clients, so healthcare providers should keep in mind the age groups at hand. Advertisements on Facebook and Instagram, for instance, will reach different demographics, and the same is true for desktop vs mobile-oriented ads.
Digitalization can help healthcare institutions achieve great success in marketing, as well as cut costs on ad campaigns. However, this requires successful identification of a target audience, building a reputable brand, and messaging which can strongly resonate with the desired crowd.
Knowing which online healthcare marketing tools to use is important, but knowing how to effectively use them is even more relevant.

Here we'll explain a few ways to create highly-effective personalized marketing campaigns.
Search Engine Marketing 

Search engine marketing is meant to increase site visibility in search engine result pages. It can take on a few different forms, most notably organic listings – also known as natural search or SEO – and paid listings – i.e. PPC or Pay Per Click.
PPC
When marketing through PPC ads, you only pay when your site is clicked on.
This makes it a fairly cost-effective spend of your marketing budget.
PPC is one of the top healthcare marketing strategies for a reason – it works! According to a 2012 study, 35% of people that come across a paid listing will search for more information on it, whereas 28% of users will visit the advertised website.
By incorporating PPC advertisements as part of your healthcare marketing strategy, you can reach potential clients and become an instant consideration for a great deal of them. 
SEO

As mentioned, SEO is a form of digital marketing that aims to increase the visibility of a website in an organic search. 
Natural search listings aren't paid for – they're determined by the search engines' algorithms. So, the more relevant the algorithm finds your site, the higher it lists. 
To optimize a website, advertisers need to consider a few things. The page needs to be pertinent to the keywords in the search. Moreover, it should contain high-quality content, load quickly, have functioning links, and be authoritative on the topic at hand.
A good ranking on organic searches is harder to obtain than a PPC ad. However, once a site reaches the top naturally, it can perform for longer – and cut down on costs as well. 
SEO is an incredibly important form of digital and target marketing as 43% of visits to hospital sites come from a search engine.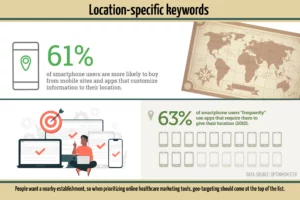 Your target audience may very well be determined based on geographic location, and in the case of medical facilities – it usually is. 
People want a nearby establishment, so when prioritizing online healthcare marketing tools, geo-targeting should come at the top of the list.
To optimize your website for location-based SEO, you can implement location-specific keywords. These will magnify the searchability for interested people in your area, who will ultimately make potential patients.
As mobile queries for "near me" services continue to grow, geo-targeting is becoming essential to any healthcare marketing strategy.
Link building

Ideally, you'd want your site to have a decent amount of authoritative backlinks pointing back to it. This helps increase the site's visibility, authority, and of course, its search rank.
Successful link building isn't easy, nor is it quick; however, there are a few tips to consider in creating a valuable backlink strategy.
Guest posting on other websites connected to the healthcare sector is a great place to start, as well as posting informative content on your website, one that can be linked back to. Another strategy is to list your practice's profile across various related pages. 
Finally, you can link-build on your site by incorporating inbound links to past studies and articles into your new content. 
Web Design

It's not enough to simply attract a healthcare audience online – you have to keep it engaged with your content. However, you could have the most thrilling piece written, but if the user doesn't like the webpage, they're likely going to bounce to a different provider.
Web design is key to retention and successful conversion rates for both PPC and SEO websites. Make sure your page is secure and the interface is user-friendly. Your web design is not something you want to slack on.
You only get one chance to make a first impression, so make sure it's a good one! 
Mobile-friendly

Not only is healthcare marketing shifting to a digital approach, but it's also moving towards a more mobile and tablet responsive site design.
People are becoming more open and willing to find and interact through mobiles.
In fact, almost two-thirds of smartphone users are open to offers of relevant healthcare services, as found by this study.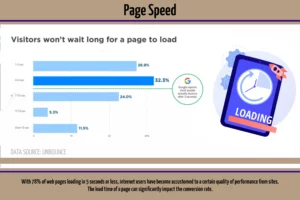 The load time of a page can significantly impact the conversion rate. This is why healthcare businesses should always put emphasis on improving their site speed – ultimately aiming for a less than 5 second load time. 
Email Marketing

Many people prefer practitioners that can communicate via email, so reaching out via newsletter is no surprise. 
It is relatively low cost and an effective way to engage with new clients. However, when you're devising your email marketing strategy, make sure to have a clear image of your brand.
In other words, be clear in what you're offering, what your healthcare establishment stands for, and know who you're targeting. Remember, personalization is key to healthcare marketing in the digital age!
Content Marketing 

Unlike other online healthcare marketing tools, content marketing is not so much about selling but rather building trust and credibility with consumers. But, with so many social media platforms, it's important to choose the right channel to advertise through.
Targeted marketing can help medical facilities know where to devote their resources. The internet makes tracking data easy, so advertisers can also know what form of content their targeted demographic takes in most.
What Makes Content Good: Dos and Don'ts of Social Media Marketing

Social media is still fairly new, but when utilized correctly, it can be a great way to attract healthcare audiences online. Many healthcare providers are taking advantage of the possibilities of social media marketing, and in such a large crowd, it's important to know how to make an impression – a lasting one.
You can increase your chances of good social media marketing by:
Personalizing

– know and meticulously define your target audience, your content should speak to them;

Choosing the right networks

– the biggest social media sites medical facilities should be aiming to cover are Facebook and Twitter;

Putting out

high-quality and shareable content

;

Regular publishing

– being consistent and frequent is key in content creation

Including

keywords

– designated healthcare keywords make your brand more findable online;

Engaging with consumers

– from customer support to social media interactions, any active engagement gives your brand a great name;

Focus on

building a brand

and telling customers about the company instead of just selling it.
Finally, digital spaces are excellent for tracking the activity and success of a post.
Take advantage of this and track your data to improve future posting.
Primary Forms of Content 

Social media can be a powerful marketing tool in healthcare. It helps maintain a brand image, engage and inform consumers, and communicate a company's message, values, and goals.
Almost 90% of older adults use the internet, particularly social media, to find health information. This means that your target audience can be easily reached – you only need to use the right medium. 
Most commonly, when we're talking healthcare, blog posts are at the forefront of content produced. However, with the growth of social media, there's a boom in video campaigns that can be shared across different sites – Youtube, Facebook, etc – as well as a rise in new forms of content, like podcasts.
Emerging Trends in Digital Content Marketing 

Keeping up with trends is always a plus, and in today's fast-paced internet market, the trends can change at lightning speed.
Some things we can expect to see on the rise in healthcare marketing are:
Interactive content 

Personalized and hyper-personalized content

Video and audio content

Voice search
Incorporating these into future marketing efforts can help you make the most out of a campaign.
Reviews and Reputation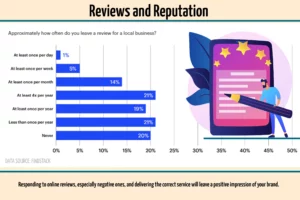 When it comes to healthcare, reputation is overwhelmingly important, both for the facility and its practitioners. Building up a solid image starts with the way you interact with the consumer – especially in this day and age.
And so, online reviews can make or break your digital marketing campaign! 
Top healthcare marketing strategies aren't always straightforward advertisements. Keeping up a good reputable image, for instance, is as important as anything we've talked about so far – perhaps even more so.
Other than individually keeping clients satisfied, you can handle reviews in a few additional ways.
Responding to online reviews, especially negative ones, and delivering the correct service will leave a positive impression of your brand. If someone has a negative comment – hear them out and do your best to mend the relationship with that patient.
On the internet, a business's reputation is much more easily spoiled than via traditional mediums, so keep the feedback your customers give you in mind – and act accordingly.
Top Healthcare Marketing Strategies: A Conclusion 

When building a digital ad tactic, it's crucial to consider all available online healthcare marketing tools. Online, anything can be tracked and measured, which leaves healthcare workers with access to key insights on what works – and what doesn't.
By implementing the aforementioned tips and tactics, you can create the perfect marketing plan to make your home care facility boom.
If you're unsure of how to use this to build an effective strategy or are simply looking for extra help, reach out to Care Marketing – we are ready to help you create and manage your online campaign and put your healthcare brand before the right audience – and in the right spotlight!