Marketing your home care services is crucial to the success of your company. Every home care provider's mission is to provide the highest quality care to its clients. However, without the right exposure and marketing approach, virtually no one will know how great your services are unless you have a good home care content marketing strategy.
Ready to share what your business can do? In this article, experts from Care Marketing talk about home care content marketing, why it's important, and how to make a good content marketing strategy.
What is Content Marketing?
Content marketing is a way for a business to build and improve its online presence by creating value-added content. It emphasizes making and sharing digital content like blog posts, and updates on social media, as well as audio and video podcasts. It doesn't advertise anything but increases interest and awareness of the services or products that a company offers.
In several industries, including home care communities, content marketing is becoming a significant marketing component because of its impact on business performance. That's why it's essential to promote a home care community through content marketing. Home care content marketing is a form of advertising tailored to home care agencies' needs, assisting them in creating and distributing content online. Any home care business can publish digital content, but they shouldn't post it all at once. Home care marketing agencies need to organize their content for maximum impact. That's where the home care content marketing strategy works.
What is a Home Care Content Marketing Strategy?
A content marketing strategy is a method to guarantee that content marketing materials are promoted and disseminated effectively. A home care content marketing strategy is like any other content marketing approach. The only difference is that it's tailored to developing home care's online presence.
Any business needs a content marketing strategy to promote and disseminate content effectively. These strategies can help a business reach goals like growing its customer base and getting more people to visit its website. Also, companies use content marketing strategies alone or with other marketing, customer, and sales efforts.
Why Content Marketing Strategy is Important for Home Care
Your content marketing strategy for home care is essential for several reasons. Besides gaining more audience and increasing traffic, here's why you should implement content marketing:
● Establish and maintain rapport with your target audience.
The best way to build trust with your audience is to give them content that answers their questions and solves their problems. When you consistently deliver high-quality articles, visitors will return to your site, increasing the likelihood that they will avail of your services.
● Increase your authority.
People will begin to regard you as an authority on the subject if you continue to implement helpful home care content marketing strategies. Because of this, you'll also be able to establish your company as an industry expert. As a result, you'll gain more customers' trust and see a surge in sales.
Expert writers at Care Marketing give their work a lot of thought and care. Every blog post we put out is thoroughly researched to ensure it helps establish you as an expert in your field.
● Boost your SERP ranking.
Combining SEO and content marketing approaches can boost your Google ranking significantly. Many home care websites have already put money into SEO by doing keyword research, building links, and making content. Producing high-quality content and continuing to do SEO will increase your chances of ranking higher in the SERP and becoming more visible to your target audience.
Care Marketing has expert teams dedicated to home care SEO. Our SEO content marketing strategy services are grounded in our extensive knowledge of SEO and healthcare content creation, making us a leading SEO healthcare agency. And because we monitor all changes to Google's algorithm, rest assured that your site will always be optimized to appear on page one of Google's search results.
Types of Content Marketing Strategies for Home Care
The main goal of content marketing for home care is to spread your brand's expertise and show potential customers that you value them. Here are home care marketing strategies we implement for our clients: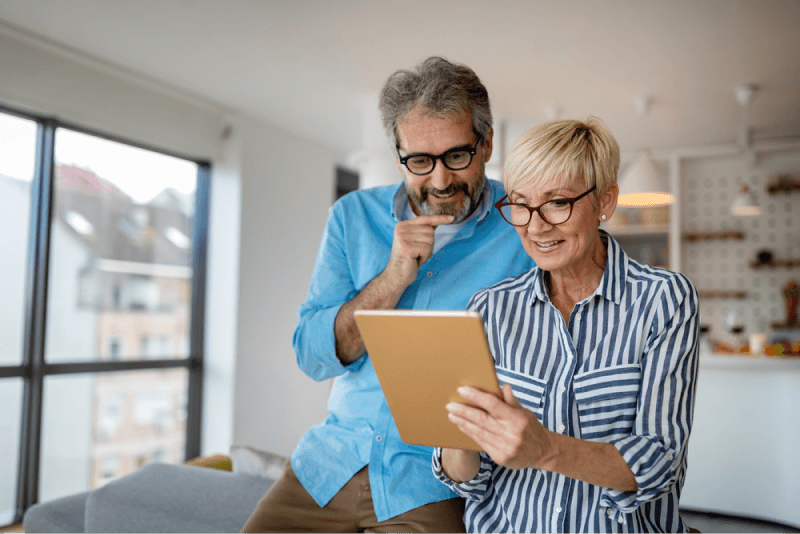 1. Blog Posts
Blog posts are the keystone of content marketing strategies. They help people become more familiar with your company and get more involved with your products and services. Also, blogging can increase traffic to your website through organic search results. With the right content, anyone on Google can see your blogs at the top of the SERPs. And when you're at the top of search results, this will positively affect your SEO content marketing strategy's performance.
Use blogging to spread the word about your senior home care plan as part of your home care content marketing strategy. A blog post is more effective if it's well-researched, up-to-date, and detailed. These can also be informational blogs like the following:
Benefits of Senior Living
Why It's Essential to Have a Home Care Plan
Costs of Senior Living
Writing blogs like these will give potential clients further information on what your company is about and the services you can offer them. It's also a great way to show community involvement, recruit employees, and support potential clients and their loved ones.
2. Infographics
Sometimes, blog posts can be challenging to grasp. To make blogs easier to understand, use infographics. Infographics are a type of content that blends visuals and text to make complex ideas easier to digest.
Infographics are a beneficial home care content marketing strategy. Consider using it to accompany blogs or as standalone material. Infographics can also be remarketed on different social media platforms. For example, you could turn the main points of your article about the benefits of senior living into an infographic and share it on social media. These can help reach more audiences and spread the word about your services, potentially gaining new clients.
3. Videos
When marketing a senior home care community, it's essential to connect with potential residents. Creating video content can help you with that.
It's critical to create content that allows potential clients to visualize what home care is like. Consider the following ideas for this home care content marketing strategy:
Home Care Community Tour
A Life Story of a Home Care Resident
Making Friends in a Home Care Community
By giving potential families and residents a sneak peek at life in a home care community, you increase the likelihood that they will choose to purchase your services.
4. Testimonials and Reviews
Publishing testimonials and client reviews on your website is an excellent way of building trust and authority. When people see how you've helped other customers, they'll be more likely to ask about your services and eventually use them. This kind of content marketing approach for home care is easy. All you need to do is consult your current clients on how your home care services have helped them in any way. Try to get at least five testimonials and put them prominently on your landing page.
5. Social Media Content
Home care marketing isn't all about creating content for your website. It's also optimizing all digital platforms, including social media.
Social media is a powerful platform for generating new leads. Children of the elderly, for example, can be a target audience when making plans for their parents' future care. Social media platforms like Facebook attract a growing audience, making it worthwhile to promote content marketing strategies there. Use social media to share your blogs, infographics, and videos to gain a larger audience.
Any kind of home care digital marketing content is vital for achieving business goals. These are just a few home care content marketing strategies you can plan for your company. What's next now is using these content types to develop a marketing strategy.
How to Develop a Home Care Content Marketing Strategy
There are several steps involved in developing a successful home care content marketing strategy. Follow these processes to establish your home care agency online successfully: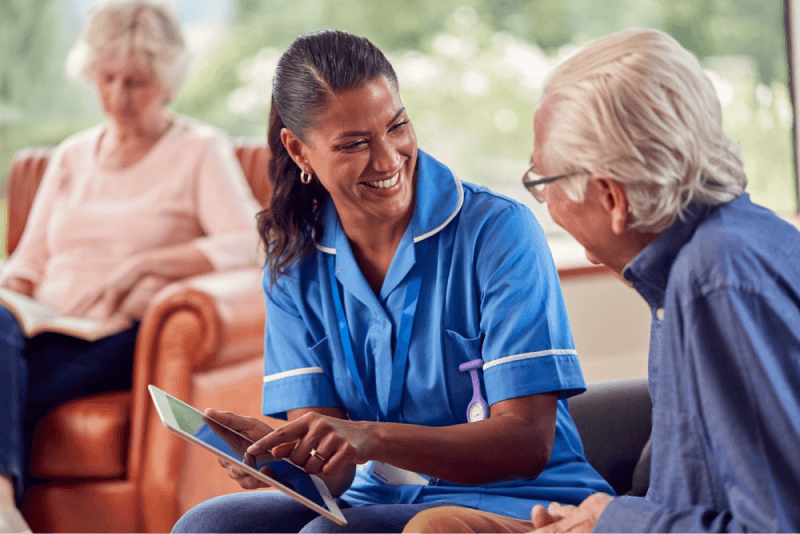 1. Identify Content Marketing Goals
Setting your goals is the first step in a successful content marketing strategy. To do this, define your target audience, explain the type of content you'll make, and list the benefits audiences will get from your content. You should also include what you'll gain from this campaign. Consider how helping your audience will help you, like increasing sales and web traffic or becoming an industry leader.
2. Determine the Best Distribution Methods and Content to Publish
You must plan out your home care content marketing strategy by deciding where and what kind of content to publish. Use an analytics tool like Google Analytics to determine the best content channel for your campaign. You can also use the analytics tool to determine what content will get the best results.
3. Make a Content Calendar
As we've said before, publishing content all at once isn't practical. To ensure maximum visibility of your website, create a content calendar. One way to plan when and where you'll be sharing content is with a content calendar. With this tool, you and your team can discuss your content marketing strategy in an organized fashion. Creating a content calendar is simple by using an online spreadsheet. Ensure everyone can access the master spreadsheet where you've compiled all the content creation data.
4. Craft the Content
Crafting the content is the next step in how to create a content marketing strategy. To do this right, double-check the steps you've already taken to ensure content creation goes smoothly without any problems. Don't forget that providing accurate information in your content requires thorough research. It's also essential to get input from the client and your coworkers before making changes and publishing the content.
5. Market the Content
After you've written and published your content, you should promote it across various channels. Utilize email marketing and social media to get the word out about your content. Keep in mind that your desired outcome for marketing the home care content will take time.
6. Measure Results
Once you have launched your home care content marketing campaign, you can use analytics tools to track its success. It's important to remember in this step that it typically takes six to nine months to see results. So while you wait, your team can work on other methods to achieve your business objectives.
Create Meaningful Home Care Content with Care Marketing
Whether you're publishing blogs, videos, or any other content, it's important to remember that creating home care content takes time and effort. Now that you're familiar with home care content marketing strategies, it's time for you to develop one. If you don't know which marketing tactic to use, our expert teams will be happy to help you decide. Contact us today for more information on home care marketing.