Patients have long searched for more seamless and unique medical facilities whose actions speak louder than words. To ensure that you become the medical facility every patient needs, you need more than just good services and a flashy name – you need healthcare branding.
The majority of patients recall a brand after five to seven interactions. For many healthcare establishments, a logo, the products or services they sell, or the managing style they employ made the essence of healthcare branding. Once upon a different time, these aspects did bear respective value, but nowadays, they are rather outdated. 
With so many healthcare branding novelties on the market, healthcare providers are urged to reevaluate their branding strategies and catch up with the latest trends, thus setting themselves apart from the competition.
For the sake of your brand's reputability and success – and the sake of your patients – here is a detailed guide on what makes healthcare branding vital for a business – and how to achieve it yourself.
The Significance of Healthcare Branding
As time and technology evolve, so do healthcare brands. Prior to this drastic shift, healthcare branding wasn't as paramount to either patients or healthcare providers.
Only years ago, healthcare marketing and advertising were the go-to promotional tools. However, aside from indicating that you provide the utmost well-being to patients in need – the branding factor was left out of the picture.
Today, a market healthcare brand is just as crucial as any marketing tool that propels your business. Patients are rightfully selective with healthcare brand names, which is why you need to tread carefully when putting your brand in the (right) spotlight.
The significance behind a stellar healthcare brand is staying true to its promises and getting patients to recognize its quality from the get-go. Additionally, your brand needs to be well connected, and represent a portrait of quantity vs quality of service, reputability, and outstanding patient care.
Maybe you don't know it yet, but if you own a healthcare company, you most definitely have a brand to evolve at hand.
Before we dive into the healthcare branding how-tos, let's first examine the stark difference between healthcare branding and healthcare marketing.
Two Different Concepts – Healthcare Marketing vs Healthcare Branding
Even though healthcare branding is indeed your strongest marketing asset, branding and marketing make two very different concepts. The strongest difference between the two is that whilst healthcare marketing promotes your brand, branding is what attracts patients – and retains them.
With adequate healthcare marketing tactics, you'll reel customers in, whereas branding will help you establish your business on the market better, proving you have all the qualities of a reputable healthcare provider.
Although separate concepts, marketing, and branding depend on one another in scaling your business. Namely, you won't have a steady brand if your marketing and branding don't comply with each other. After all, there's a huge difference between laying out your brand in detail – values, goals, visions – and simply stating that "we're the best, trust us."
Patients have seen their fair share of healthcare trickery, and as it has already become a clichė concept, they won't hesitate to move on to the next best healthcare provider.
Therefore, the goal of branding is to get your patients and even investors to commit, grow their confidence in your establishment – and engage with it.
Technicalities aside, let's get to the part where you have your cake and eat it, meaning where you learn how healthcare branding marketing works and which of its tools may fit your branding journey better.

Healthcare Branding Guide – Distinguishing Your Brand from the Rest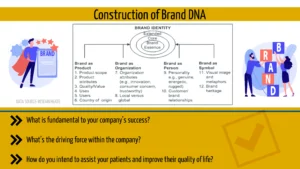 Let's have a peek at the market healthcare brand plan of action – the exoskeleton of healthcare branding!
Construction of the brand DNAThe core of your healthcare organization's mission is its brand DNA. It identifies the major and minor elements that set you apart from your competition while giving your clients the privilege of deciding whether you're a better option than any competitor.
There are several approaches to define your market healthcare brand DNA. One strategy is to promote, emphasize, and focus on your company's history and background.
What is so unique about your medical history that is of interest to the audience? Even more, what was the purpose of starting and growing your healthcare company through to what it is today?
Possessing a compelling tale to share with patients allows you to affix with them on an interpersonal level, not just a medical one. Additionally, when establishing your very own brand DNA, it's crucial to consider featuring current objectives as well as long-term brand goals, whilst also evaluating your prior accomplishments.
To make the most of the DNA healthcare branding marketing tool, you need to start asking yourself the right questions.

Namely:
What is fundamental to your company's success?

What's the driving force within the company?

How do you intend to assist your patients and improve their quality of life?
After you're done assessing the core structure of your brand DNA, then comes another healthcare branding marketing tool, related to the positioning of your brand.
Positioning your Brand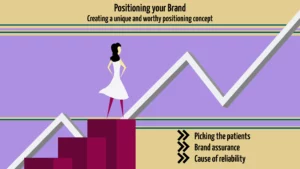 The methodical strategy of making your market healthcare brand suited for the developing dynamics of your intended patients' needs is called brand positioning.

And, it's absolutely vital to position your brand, especially when cultivating customer loyalty, which allows you to transform a one-time patient into a long-term connection!
To develop an ideal healthcare brand positioning structure, you first need to define your brand's distinctiveness.
These simple methods will add to your long-term brand positioning.
Analyzing how your company is positioned at the moment

Determining your immediate rivals

Assessing how your adversaries present their brand

Making comparisons to your and your rival's positioning

Creating a unique and worthy positioning concept

Putting everything into practice to see if your positioning strategy took any effects
Assuming you've done every step of the list, further in this healthcare branding guide, we'll quickly demonstrate how you can create a unique and worthy positioning concept. Namely:
Picking the patients:

You need to create a brief overview of the behavioral and other observable traits among the clientele your healthcare brand is seeking to engage with – and entice.
Brand assurance:

Think about the most persuasive and sentimental value that your market healthcare brand can provide to your patients. Naturally, you want to go for something that's rather distinctive from your rivalry companies.

Cause of reliability:

Include

the utmost convincing proof that your market healthcare brand fulfills in terms of reliability, transparency, and patient service.
Without these, you're looking at poor healthcare branding positioning. As a result, this will prevent you from attaining new patients, and most importantly, it will leave your existing patients feeling unsure about how to convey the advantages of you as their healthcare provider.
Local SEO – Best Healthcare Branding Marketing Tool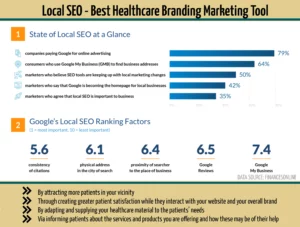 The next step in our healthcare branding guide is – knowing the importance of Search Engine Optimization for your brand image.
At present, the digitalized era allows patients to search for their ideal healthcare provider through the internet. To meet these demands, healthcare providers are inclined to do extensive branding via their websites.
Local SEO – Best Healthcare Branding Marketing ToolIn layman's terms, you can't have good market healthcare branding without showing up on Google's first or second result page. Meaning, the effort you've put into healthcare branding will be in vain since people will first have to see it – to believe it.
That's where a healthcare branding marketing tool like SEO, or more specifically, Local SEO steps in. A major factor in making the most of your brand, SEO optimizing your healthcare website isn't a simple task, although it can be achieved with the right amount of time, effort, and investment put into it.
To optimize your website based on your market healthcare brand image, here are the tips to follow:
By attracting more patients in your vicinity

Through creating greater patient satisfaction while they interact with your website and your overall brand

By adapting and supplying your healthcare material to the patients' needs 

Via informing patients about the services and products you are offering and how these may be of their help
Keep in mind that local SEO is a must and a greatly beneficial healthcare branding marketing tool. With proper optimization, your brand will surely flourish. 
Initiating Brand Communication
Next up in this healthcare branding guide has to do with a term called brand communication.
Brand communication refers to every time a patient engages with any healthcare business via a range of promotional tools, like TV and radio advertisements, billboards, newsletters, social networks, and even internet reviews. Moreover, brand communication covers face-to-face, phone, email, or any other means of interaction.
To make the most of this market healthcare brand tactic, you'll have to generate a fitting tone that suits the brand's prototype. Whether you opt for a more formal approach, a committed tone, an imposing or a jolly one, that's the brand's personal judgment call.  
Careful when choosing the right tone, since the one you go for will be the one you have to commit to utilizing as a part of this branding marketing tool. 
If you continuously change the tone of your narrative, patients will remain confused about the sudden change and even be repelled by it. As you might have guessed, that's the last thing you want to happen, since the patient feedback is the utmost significant indicator of successful healthcare branding. 
How to Tell if Your Healthcare Brand is on the Right Track
First off, a little pro tip: your healthcare brand can and should ALWAYS be improved!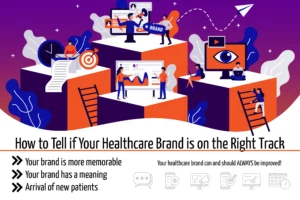 But, if you're wondering whether your market healthcare brand is on the right track, here are some indicators to keep an eye on in making sure you did a superb job: 
Your brand is more memorable:

If you've proven that your brand is indeed worthy of every patient's time and money, it will gradually show and scale.




Plus, by making it memorable, you will separate yourself from other, run-of-the-mill healthcare providers. 

Your brand has a meaning.

If your healthcare brand is clear on its goals, ambitions, and achievements, these will give it greater meaning and purpose and make it more relevant in your patient's and the market's eyes. 

The arrival of new patients:

This is definitive proof that your healthcare branding tactics are starting to pay off. Attracting clients is one thing, but when you actually start retaining them with your products and services, you can safely say you made significant progress. 
If you reflect the principles, human sentiments, and genuine characteristics of your target group, your market healthcare brand will easily climb the ladder of recognition and success. 
The Risks of Not Having a Healthcare Brand
In all truth, being a healthcare provider and not having a healthcare brand in today's time is a risk of its own. Without a proper brand, no healthcare company or organization will succeed in attracting clients, showcasing their offers, or beating the competition.

Loss of revenue, losing lasting relationships with existing patients, and not being able to hold on to new patients – these all pose huge risks for a non-branded healthcare provider.  
Healthcare Branding Guide: The Stats and Numbers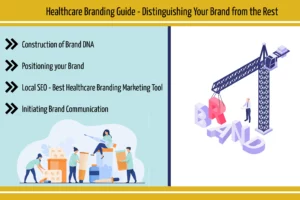 As per a 2021 research, here are some indicators of branding your business with success:
Brand recognition can be boosted by using colors as part of the campaign, by 80%

Patient care is paramount to establish as part of your branding, almost 73% of clients respond to stellar customer care

Sharing the same values as your audience will make for a more refined branding, as per 72% of customers 

Brands who resort to blogging make for 67% more leads, which can be a huge progress for your business
Healthcare Branding: The Verdict 
Carefully assessing through every healthcare branding marketing tool you choose is essential to finding what makes your business tick. 
Though the branding process may be somewhat overwhelming, rest assured that the benefits greatly outweigh the costs and risks of the process.
If you're searching for a more detailed and on-point approach, our home care branding and marketing service will lend a helping hand and implement the finest web design, local SEO, and audience loyalty program tools that make healthcare branding a breeze!